The Crunchtastic Walnut Chocolate Candy 2018: Contest Winners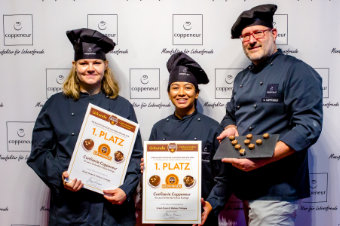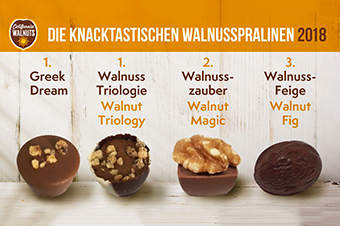 During the third Walnut Chocolate Candy Contest, chocolatiers from Germany, Austria and Switzerland had the chance to present their creations and compete for the title of "Crunchtastic Walnut Chocolate Candy 2018". This year, two walnut candy compositions share the grand prize.
The chocolatiers from Coppeneur et Compagnon created the winning candy with California Walnuts that convinced the specialist jury: "Greek Dream" was presented as a milk-chocolate cup filled with walnut honey nougat and greek yogurt and "Walnut Triology" combined different walnut aromas with salted caramel.
The second prize went to a creation that was newly created for the contest: Argenta Schokoladenmanufaktur presented their "Walnut Magic" with a high walnut content of 25 %.
The third place also pleased the panel: The "Walnut Fig", a contribution from Austrian family business Walter Heindl, was showcased as a chocolate walnut shell with a walnut, sour cream and fig filling.
Handler List
Are you looking for a supplier of California Walnuts?