Menu Ideas for Food Professionals
This recipe collection truly includes something for everyone.


BREAKFAST
Add chopped walnuts to pancake or waffle mix.
Mix together walnuts, raisins, rolled oats and bran for easy granola.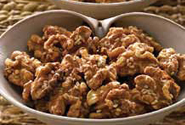 APPETIZERS
Serve spiced walnuts as bar snacks.
Purée walnuts with garbanzo beans for a healthy hummus dip.
ENTRÉES
Add toasted walnuts to stirfry or sautéed vegetables for added crunch, flavor and nutrients.
Mix ground walnuts and bread
crumbs to encrust salmon fillets,
chicken breasts or pork chops.
SAUCES
Add finely chopped walnuts to sauces for texture and taste.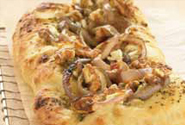 PIZZA
Prepare whole wheat pizza crust with ground walnuts.
Use walnuts, apple pieces and brie cheese to top pizza.
ASIAN
Mix chopped walnuts with crab and mango for sushi roll filling.
Add chopped walnuts to your favorite dumpling filling.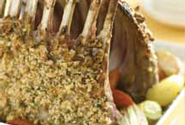 SALADS
Add chopped walnuts to your house salad for a signature taste that adds a healthy crunch.
Candied walnut "croutons" can be used in virtually any salad.
SANDWICHES/SNACKS
Add chopped walnuts into sandwich or wrap fillings.
Include walnuts in heart healthy trail mixes.
DESSERTS
Use toasted walnut halves as a garnish on desserts.
Ground walnuts can be added to pie or cheesecake crumbcrusts.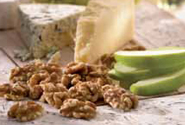 CHEESE PLATTERS
Add walnuts to cheese platters. They are the perfect complement to both mild andaged cheeses.