Consumer behavior – Walnut preferences in Europe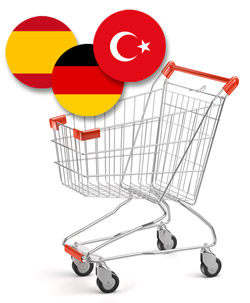 The study of consumers helps to achieve an increase in sales by analyzing how consumers think, feel, reason, and select their products. For instance by understanding that people react on food advertising more effectively when being hungry, we learn to position snacks more prominently in the late afternoon.
The latest consumer research1 dissects the reasons for the great popularity of walnuts and identifies the common use of walnuts in Germany, Spain and Turkey2.
Get to know the details:
GERMANY: Bring on the healthy snacks

SPAIN: Health-conscious indulgence

TURKEY: Strength of tradition
---
1California Walnut Promotional Activity, Evaluation Study – Germany 2014, rose research (19.12.2014)
2A total of 1,511 interviews were completed among respondents 25 years of age or older, who are the primary grocery shoppers of their household in Germany, Spain and Turkey.
Handler List
Are you looking for a supplier of California Walnuts?